Artist in Residence
Exhibition by our Current Artists in Residence - Soft Turns - October 15th - November 12th - Boarding House Gallery, Guelph
Presented by the School of Fine Arts and Music in partnership with the Artist Residency Program at the School of Environmental Sciences, University of Guelph.
Boarding House Gallery, 6 Dublin St S, Guelph
October 15th - November 12th Thursdays and Fridays 12-5, Saturdays 9-3
If you can't go in person, you can see the exhibition pieces here:
http://www.softturns.com/theseedsfloataway.html
the seeds float away ​presents several works created during Soft Turns' studio residency at the School of Environmental Sciences (SES), University of Guelph (2017-19). The residency experience nurtured interests in the fields of ecology and agriculture, and this body of work reflects the artists' considerations of topics related to research conducted at SES, including the use of controlled environment chambers, artificial soil substrates, agrogeology, space agriculture and more broadly, plant-human interactions. Guided also by research into the materiality of information, this exhibition considers some physical dimensions of our increasingly digitized culture in relation to the finite resources available on our planet.
Soft Turns is the collaborative effort of Sarah Jane Gorlitz and Wojciech Olejnik. Soft Turns has previously participated in residencies at the Banff Centre, Plug In ICA Institute, AIR Bergen, and the Canada Council Paris Residency. Some recent exhibitions include 8eleven (Toronto), Evans Contemporary (Peterborough), Foundation 3.14 (Bergen), Southern Exposure (San Francisco), Skånes Konstförening (Malmö), YYZ (Toronto), Oakville Galleries (Oakville), Videobrasil (São Paulo), Soap Factory, (Minneapolis) and Trinity Square Video (Toronto).
The artists gratefully recognize support from the Ontario Arts Council and the Canada Councils for the Arts in the production of this work. They would also like to thank the faculty and students of the School of Environmental Sciences, in particular Jon Warland, Ron Dutton, Mike Dixon, Thomas Graham, Peter van Straaten, Youbin Zheng and Julie René de Cotret for their time and generosity.
Interview by Soft Turns about their residency at our school and the current exhibition the seeds float away: Video of the Interview
School of Environmental Sciences Artist Residency Program
Our Vision
To bring Art and Science together to broaden possibilities, perspectives and critical discourse. 
Our Mission
To foster the appreciation, research and creation of contemporary art and allowing artists access to scientific technology, disciplines and theory occurring in, but not restricted to, the SES community, in an inclusive environment conducive to collaboration, research and respect.
Current Artists in Residence (2016- 2019)
Soft Turns
(Sarah Jane Gorlitz and Wojciech Olejnik)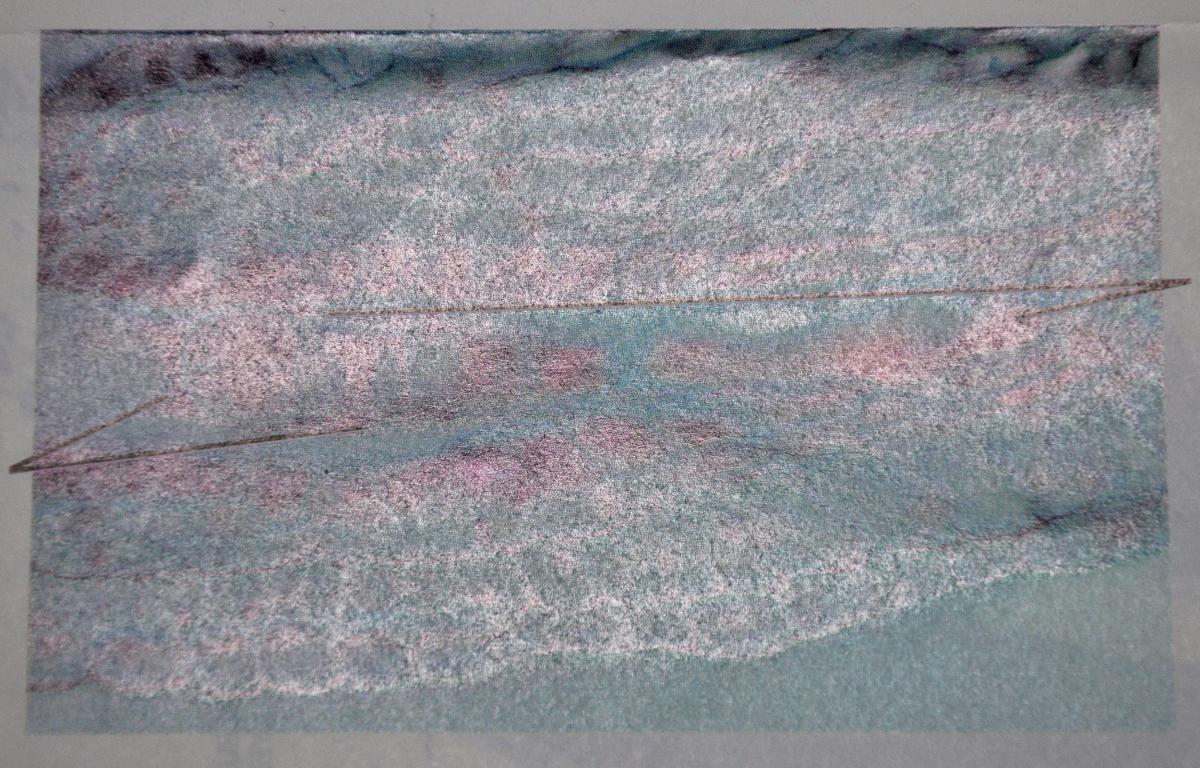 still from 'fluorescence'(2016)
Soft Turns is the collaborative effort of Sarah Jane Gorlitz and Wojciech Olejnik. They consider the encounter with something 'other', as an ever-changing space between the foreign and the familiar, the accessible and inaccessible. Interaction with these spaces - these brief moments that weave the background of everyday existence - forms the basis of their practice. Their collaborations employ found objects, readily available materials, D.I.Y. methods, and experimentation to create videos, stop-motion animations and mixed media installations.
Currently based in Toronto, Wojciech (MFA University of Waterloo, 2002) and Sarah Jane (MFA Malmö Art Academy, 2011) have received support from the Swedish Edstrand Foundation, the Toronto, Ontario, and Canada Arts Councils; the latter awarding them the 2008 Joseph Stauffer Prize and a 2013 Paris Residency. They were featured in the Fall 2011 issue of Canadian Art, and in Syphon 3.1 in 2015. Recent exhibitions include: Centre Clark (Montréal), Southern Exposure (San Francisco), Foundation 3.14 (Bergen), Greusslich Contemporary (Berlin), Museum of Modern Art (Moscow), 18th Videobrasil (São Paulo), Skånes konstförening (Malmö), University of Waterloo Art Gallery (Waterloo), Oakville Galleries (Oakville), O'Born Contemporary (Toronto), Trinity Square Video (Toronto) and Modern Fuel (Kingston).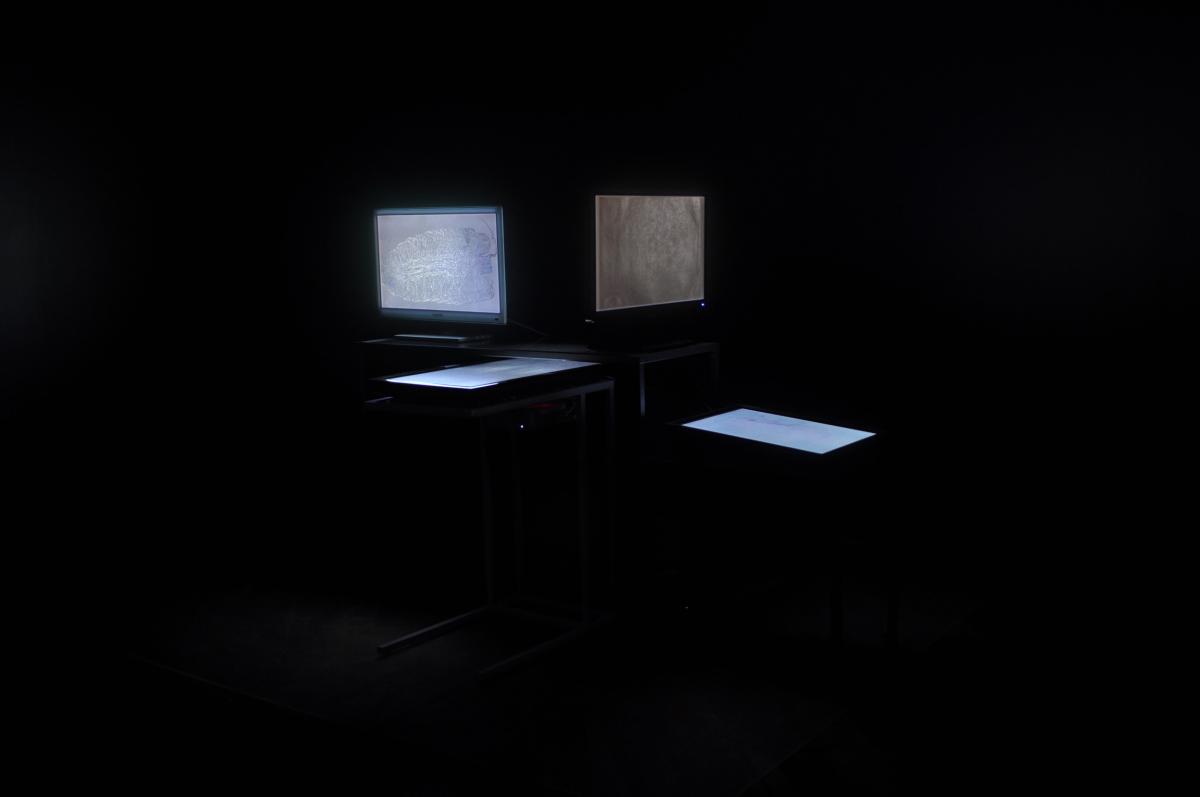 installation view of 'fluorscence' at Trinity Square Video, Toronto 2015
"Light travels, disperses, sometimes physically alters what it touches, nourishes. To our eyes, light's journey is instantaneous: through the switch of our bedside lamp, kilometers of glass cables that traverse the ocean floor, or nanometers between a leaf's surface and its internal tissue. This property of light, and generally, the possibility of touching at a distance, is the focus of our newest project. "Stone" cells (dead support cells found in plant material such as the bark of trees and the grittiness of pears) have recently been theorized to perform like crystalline lenses, helping plants transmit light deeper into tissue. Their density and light-transmitting properties cause problems for paper-making - so we have begun holding up paper, searching through our books for these blemishes. They signal a sporadic path through a text, connecting us to remnants of original plant tissue, to a lost biological past.
During our residency at the School of Environmental Sciences, we intend to develop a project which reflects on the phenomenon of "stone cells", and create a new sculptural video installation using lenses, optic-fibres and paper."
*********
OUR PAST ARTIST IN RESIDENCE
Annie Dunning (2015-2016)
Please take the time to visit Annie Dunning's exhibitionhttps://www.kwag.ca/en/exhibitions/Annie-Dunning.asp
Sapsucker Sounds
Annie Dunning
March 13th-April 10th, 2015
Opening: Friday, March 13, 7pm at G101
Our opening program will include presentations by Story Teller: Lesley Parlane and Poet: Vera Wabegijig. The readings will be followed by a sound performance featuring Melody McKiver who will be interacting with Annie Dunnings' Sapsucker sound machines. After the performances, we will participate in a round table discussion with the artist, performers and Remco Volmer, Program Manager at Artengine.
Sapsucker Sounds is an installation of objects and interactive sound sculptures that offer an opportunity to experience sound generated by a conflation of human and woodpecker culture. The work began with a found log, filled with holes made by a Yellow-Bellied Sapsucker. Each sculpture is a different attempt to interpret the marks the bird has "recorded". Sapsuckers, like other woodpeckers, use their hammering to delineate their territorial range as well as find food. In addition to using hollow trees, they have been known to hammer on metal chimney flashing and road signs, taking advantage of the amplification these introduced items offer. This development in woodpecker culture that can expand an individual bird's territory highlights the potential for inter-species cultural influence that must apply to human culture as well.
Annie Dunning wishes to gratefully acknowledge the support of the Ontario Arts Councils' Chalmers Professional Development Grant Program.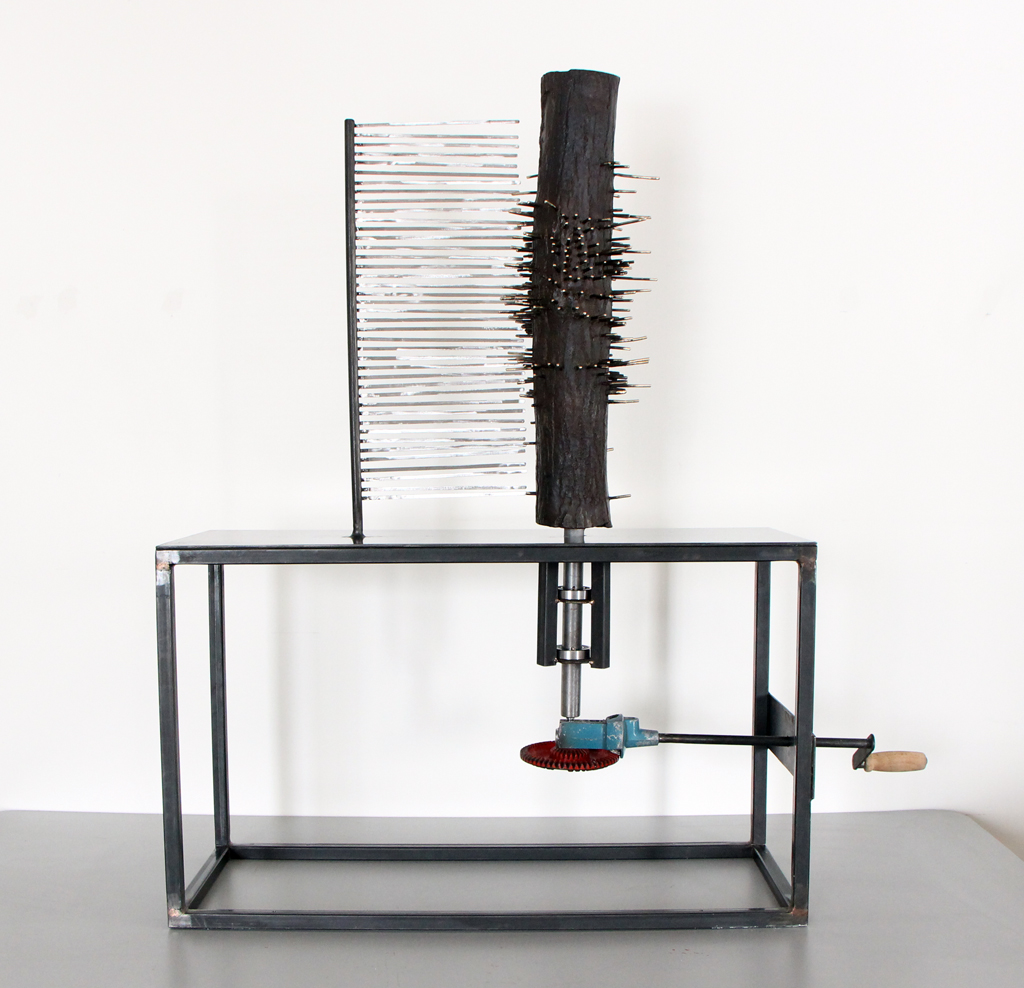 Music Box 2014, Annie Dunning
Annie Dunning maintains a multidisciplinary practice, based in sculpture and installation. Her work also includes mail art, collaboration, book works, video and sound work. She holds a BFA from Mount Allison University, NB and an MFA from the University of Guelph, ON. With support from the Canada Council for the Arts and the Ontario Arts Council she has produced and shown work across Canada and abroad.  Upcoming exhibitions include solo shows at Gallery 101 in Ottawa, ON and ODD Gallery in Dawson City, YK in 2015.
In her work she is examines intersecting elements of culture and the natural world.  It is the grey areas between the human world and the behaviours of other species that she finds to be fascinating spaces for speculation.  Through sculpture and installation she creates a shifted perspective of the interactions and interconnections of humans and the natural world to confuse conventional hierarchy.
Artist Event
Julie René de Cotret and Robert Hengeveld will be exhibiting works in Opinion Makers 2, London, UK.
From December 16th to January 11th, 2015   http://www.alisn.org/The-Opinion-Makers-2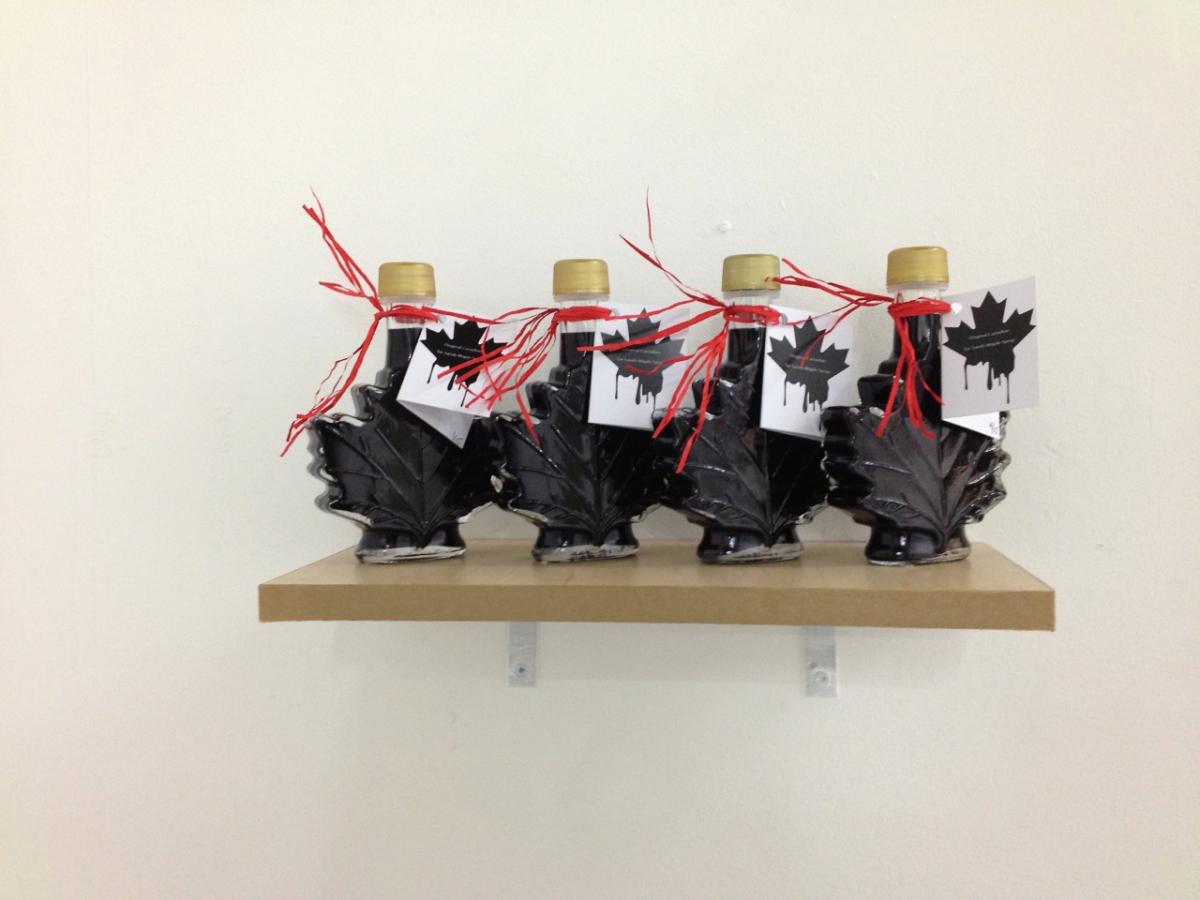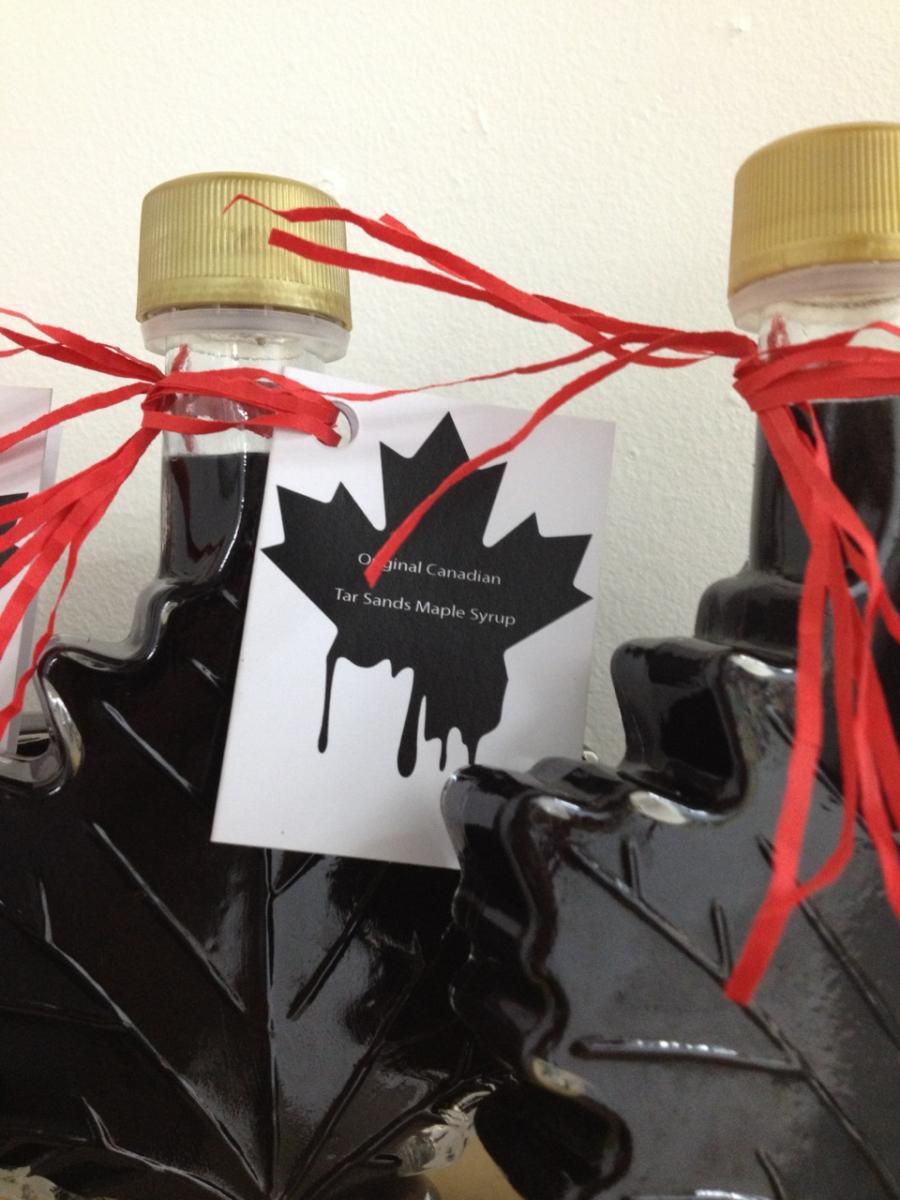 Original Canadian Tar Sands Maple Syrup 2014 Julie René de Cotret
---
Robert Hengeveld (2011-2014)
Hengeveld is an installation and multi-media artist whose work explores the boundaries between reality and fiction, and where we find ourselves within that relationship.
He is currently living and working in Toronto, Canada. He completed his MFA at the University of Victoria in 2005 and studied the Ontario College of Art and Design. He began his art practice at Georgian College, where he received a Certificate and Diploma in Fine Arts. He is currently Artist-in-Residence at the University of Guelph in the School of Environmental Science. Some recent and upcoming exhibitions include CAFKA (Kitchener ) , MacDonald Stewart Art Centre (Guelph), Eastern Edge (St. John's), and Eye Level Gallery (Halifax) .
Robert Hengeveld is represented by Katharine Mulherin Contemporary.
Howl 2014, Robert Hengeveld
Photo Credit: Dean Palmer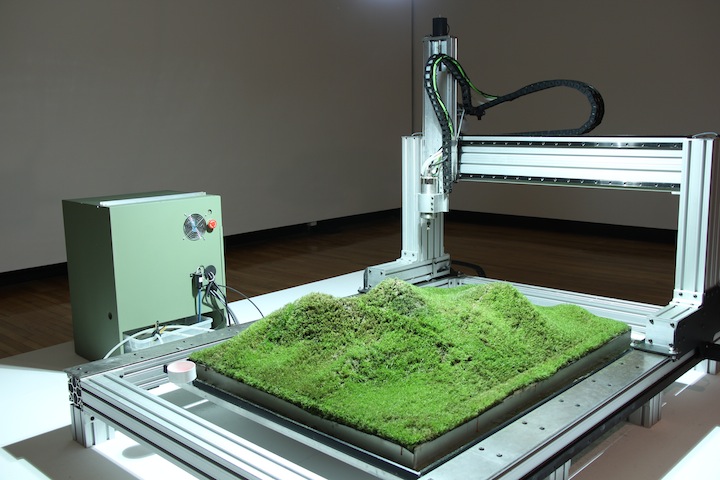 unbridled rein, 2014
Robert Hengeveld
Technical Assistance: Rodger Tschanz
Photo Credit: Robert Hengeveld
Supported by: Gavita, Department of Plant Agriculture, Canada Council for the Arts.
 
http://www.roberthengeveld.com
 
---
Julie René de Cotret (2009-2011)
INITIAL ARTIST IN  RESIDENCE
Canadian Ministry of Resource Management: video tutorial 7)a-58  2014. Julie René de Cotret
Julie René de Cotret  (MTL, 1976) is a visual artist, writer and independent curator. BFA NSCAD 2004. She has exhibited and curated internationally. In 2015 She will be curating the Canadian content for at  Art Athina, Art Fair in Athens. She recently curated exhibitions at the MacDonald Stewart Art Center and at the Alternative Art Fair of Sudbury. She will be exhibiting in Seoul, Korea, London, England, and Geneva, Switzerland in 2015. She has exhibited in Athens, Greece, in Toronto and Kitchener in 2014.  She is co-founder and Artistic Director of the artist residency program at the School of Environmental Science, University of Guelph, where her studio is still located. She was on the board of directors of Ed Video Media Arts Center for 7 years and is now Program Coordinator.
http://www.julierenedecotret.com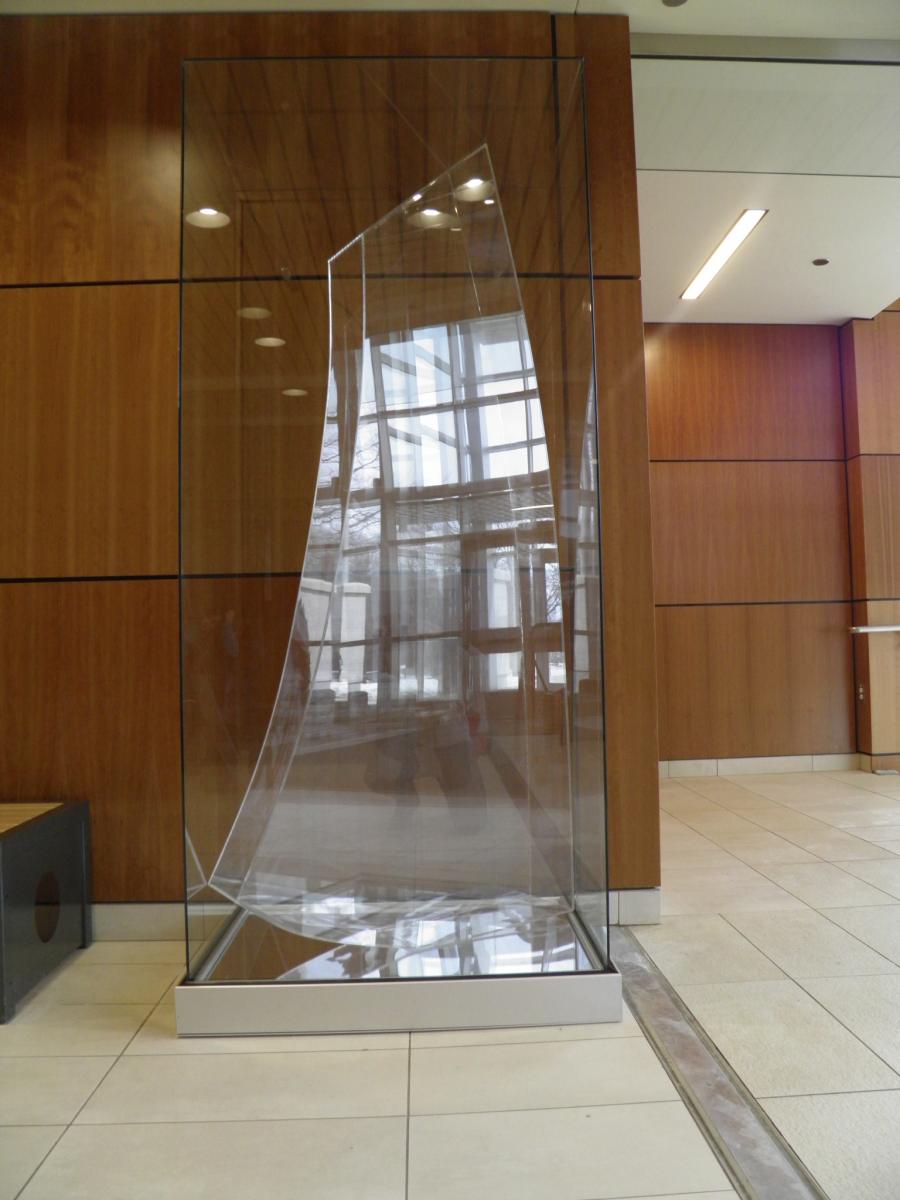 Fragment, 2013. Julie René de Cotret
Shake your own hand, 2012. Julie René de Cotret
Independent Curator/Director, Julie René de Cotret 
Artist Residency Program with the School of Environmental Sciences
decotret@uoguelph.ca