Artist in Residence
School of Environmental Sciences Artist Residency Program
Current project by the Artist residency program
Mnemonic waters 2022 by Jenn E. Norton
Current Artist in Residence - Ron Benner
The School of Environmental Sciences' Artist Residency Program is pleased to announce an on-campus installation by artist Ron Benner, with guest curator, Alex Jacobs-Blum, and Artistic Director Julie René de Cotret.
This on-campus installation project aims to stimulate considerations for plant sovereignty and sustainability, in a time when capital and colonial values are a continued primary focus.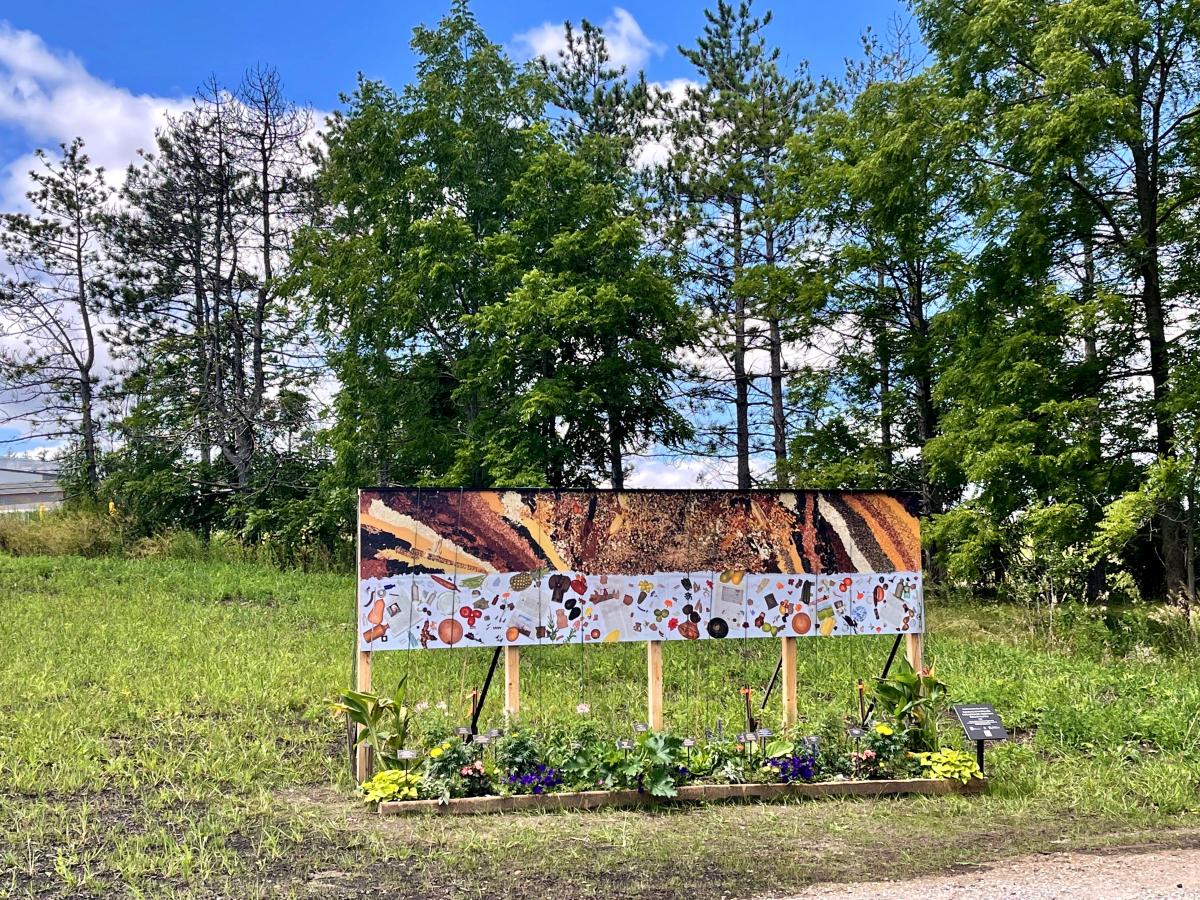 Photo credit Julie René de Cotret 2021
Remains in Association with Cultural Deposits: 10,000 Years Before Present Era

, 2021
July 26th - Fall, 2021 - Harrison House, 372 College Ave E, Guelph, ON N1G 3B9
An in person discussion (date to be announced soon) will take place at the site of the installation between Ron Benner, Alex Jacobs-Blum and a guest speaker.
"The title of the installation, Remains in Association With Cultural Deposits, refers to plant material/remains found at archaeological sites in the Americas signifying the presence of organized farming beginning about 10,000 years Before Present Era (BPE)." Ron Benner, 2021 Benner's installation is comprised of a garden and a photographic mural. The indigenous ornamental and food plants from the Americas grow together within the installation. The piece investigates historical information on the economical and political factors at play in the migration of plants from their indigenous lands and their original caretakers to globalized contemporary markets, contrasted by the garden's serene appearance. Remains in Association with Cultural Deposits: 10,000 Years Before Present Era is a critical analysis of industrialized economies and the ongoing effects of colonization on food preservation. Benner's work will bring forth crucial considerations on theinterconnectedness of art, agriculture, philosophy, markets and ethics around Indigenous knowledge, to engage the entire University and the Guelph community. Benner aims to bring awareness to Western society's collective cultural amnesia.
Benner's practice began in 1970, after studying Agricultural Engineering at the Ontario Agricultural College, at University of Guelph, in 1969. He then embarked on a life long journey of research on plants indigenous to the Americas. In 1976, Earl Butz, then Secretary of Agriculture in the US stated: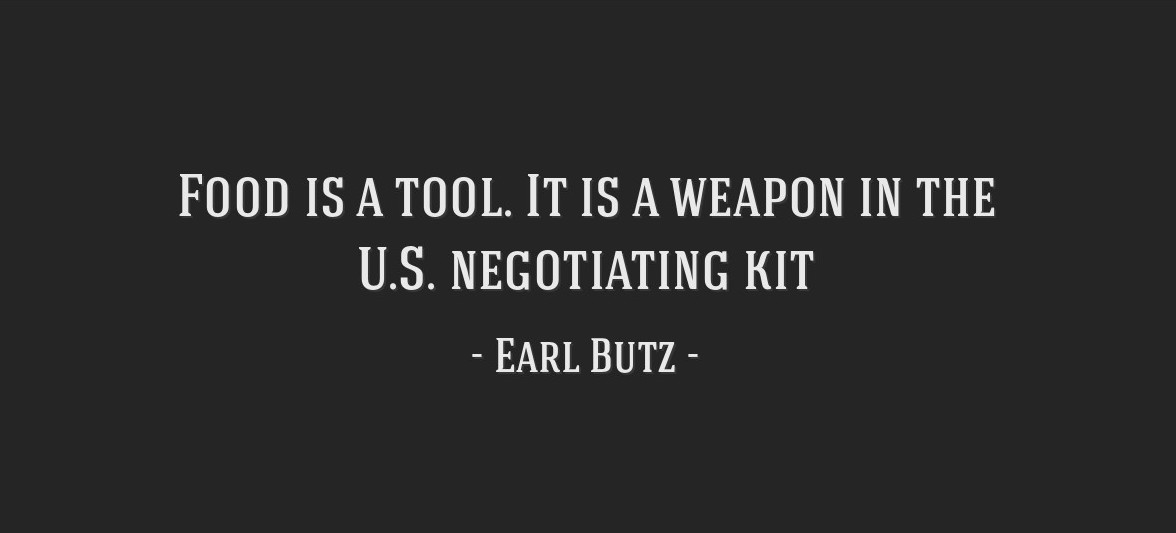 Benner began his term as artist in residence in September 2020, and worked on his practice from his studio in London, due to COVID-19 restrictions. We are pleased to present his most recent work. Please take the time to come to the beautiful Arboretum and view this installation in person. Located beside the Harrison House in collaboration with The Arboretum, the support of The Ontario Arts Council, The Guelph Trial Gardens, and the Art Gallery of Guelph.
The Artist
Ron Benner was born in London, Ontario on January 8, 1949.  He studied agricultural engineering for one year at the University of Guelph (1969/70) and began to work as an artist in London, Ontario in 1971.  From 1971 to 1979, he worked as a brakeman and conductor on the Norfolk and Western (Wabash) Railway and was a member of the United Transportation Union. In 1973 he began to travel frequently to Mexico, Central & South America, Europe, the Middle East and Asia. In March 1980, he attended the World Conference of Indigenous Peoples in Ollantaytambo, Peru as an official artist/observer. From 1975 through 1981, he was a member of the Forest City Artists' Association and manager/director of the Forest City Gallery in 1980/81. In 1983 he co-founded the Embassy Cultural House, London, Ontario with Jamelie Hassan and served on the board until 1990. He co-organized the Merida/London exchange (1980/81) and the Havana/London exchange (1988). In 1987 and 1989 he was an artist/observer of the 3rd Havana Biennial. He curated the exhibition program Siting Resistance (1990) at the Embassy Cultural House, Forest City Gallery and Cross Cultural Learner Centre, London, Ontario. In 1995 he began working with Rural Advancement Foundation International, Ottawa (RAFI) and the Pomelo Project, Vancouver in a critique of the Human Genome Project and Life Patenting. In 1998 he participated in the First International Gathering on Biodiversity & Bio-devastation in St. Louis, Missouri, U.S.A. He co-curated with Pat Deadman dust on the road: Canadian Artists in Dialogue with Sahmat (India), Galleries in the Galleria, London, Ontario. He was awarded the Canada Council Studio in Paris, Dec. 2000 - Feb. 2001. He was an advisor for Museum of World Cultures, Museion, Goteborg, Sweden, Feb. 2001. He attended the United Nations conference on Palestine "End the Occupation" New York, NY, 2002. He co-organized with Jamelie Hassan Drawn In at the Royal Ontario Museum, March 2003 in response to the pending U.S-led invasion of Iraq. He co-organized Wide World: Collective Identities, HB. Beal arts outreach program designed for youth which was a pilot project funded through the London Community Foundation co-ordinated through the Forest City Gallery, London and involved billboard projects and a gallery exhibition for the art students participating in the workshops. In 2005 he participated in Art, Geography and Invisibility at an international geography symposium in Olot, Catalunia, the University of Barcelona, Spain. He was an exhibiting artist and installation co-ordinator for the national touring exhibition Orientalism & Ephemera, a project by Jamelie Hassan, 2006-2008. In 2010 he was appointed Adjunct Research Professor in the Visual Arts Department, Western University, London, ON. Position renewed in 2016.
For a recent artist presentation by the artist and his partner, artist Jamelie Hassan: https://www.youtube.com/watch?v=qOzwOaKUiII
Ron Benner's artist website: http://www.ronbenner.ca/ &https://www.embassyculturalhouse.ca
The Guest Curator
Alex Jacobs-Blum (Lower Cayuga of Six Nations of the Grand River Territory/ German) is an emerging curator and photo-based artist living in Hamilton, ON. Alex's work as an artist and curator centers Indigeneity, healing/ lateral love and community while challenging colonial structures. 
Nationally Alex's artwork has been exhibited at the University of Ottawa, the Woodland Cultural Centre, Brantford and Critical Distance Centre for Curators, Toronto. She has facilitated photo and social justice workshops with Indigenous youth at Western University, London and at Centre[3] for Artistic and Social Practice, Hamilton. Alex holds a Bachelor of Photography from Sheridan College (2015), and is the current Indigenous Curatorial Resident at Hamilton Artist Inc.
Alex Jacobs-Blum's personal website: www.alexjacobsblum.com
Julie René de Cotret is co-founder of the residency program (2009-), where they are Artistic Director. This artist/curator strives for art advocacy and artist empowerment. Their practice is focused on environmental awareness and sustainability, in the context of Canadian resource extraction. They received their BFA from NSCAD in 2004 and a MVS from the University of Toronto, in curatorial studies in 2018. They have exhibited and curated exhibition projects in: Canada, US, Sweden, Greece, Switzerland, Korea, Germany. Their vision is to create projects, which are generative and celebrate art and environmental advocacy, while fostering community making. Their process is always collaborative.
We would like to thank the School of Environmental Sciences for giving the program a home and support since it's inception and The Arboretum for providing us with a wonderful site for Ron's installation and for the enormous support that they have provided in the process. We acknowledge the generous support of the Ontario Arts Council, the Guelph Trial Gardens for providing some of the plants for the installation, and the Art Gallery of Guelph who will be sponsoring the discussion in September and hosting one of Ron's famous corn roasts at their location, after the discussion.
The artists thanks the following for their assistance support: Julie René de Cotret, Alex Jacobs-Blum, Olivia Mossuto, Jefferson Campbell-Cooper, Dale Lackey, Justine Richardson, Jon Warland, and Joanne Scarrow.

---
Our Vision
To bring Art and Science together to broaden possibilities, perspectives and critical discourse. 
Our Mission
To foster the appreciation, research and creation of contemporary art and allowing artists access to scientific technology, disciplines and theory occurring in, but not restricted to, the SES community, in an inclusive environment conducive to collaboration, research and respect.
Independent Curator/Director
Julie René de Cotret (decotret@uoguelph.ca)
---
Our Past Artists in Residence
Robert Hengeveld (2011 - 2014)