Madhur Anand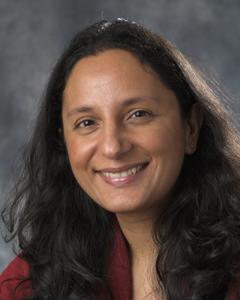 Lab:
Bovey Building Rooms 2213 and 2105
Find Related People by Keyword
Education
BSc, PhD Western Ontario
Postdoctoral fellowships at University of Trieste, Hebrew University of Jerusalem, Utrecht University and University of New Mexico (USA).
Research
The rapid pace and far-reaching potential of ecological change in the face of globalization and climate change is creating stress within ecosystems all over the world. There is an ever-increasing threat of extinctions of species, communities, and ecosystems along with the biodiversity services and functions that they support. Understanding the complex effects of ecological change at many scales (local to global, recent to historical) on biodiversity is thus of critical importance for predicting human-mediated changes to the environment, conserving biodiversity heritage and sustaining global economies. The CRC in Global Ecological Change recognizes the increasing international stature of ecological problems and their solutions. The research program will highlight similarities and differences between ecological events and practices on different continents with a view to fostering knowledge exchange. It will also provide tools for the application of emerging interdisciplinary theories, improved quantitative methods and predictive simulation models to the preservation, recovery and restoration of perturbed and vulnerable forest ecosystems worldwide.
Meet Prof. Madhur Anand

Prof. Madhur Anand of the School of Environmental Sciences describes her research on ecological systems and changes.
Check out Madhur's 60 second snapshot video here. 
Publications



(Selected Recent) *asterisk indicates Anand lab member
Silva*, L, and Anand, M. (2012) Probing for the influence of atmospheric CO2 and climate change on forests worldwide. Global Ecology and Biogeography [accepted pending minor changes]
Leithead*, M, Anand, M., Duarte, L. and Pillar, V. (2011) Causal effects of latitude, disturbance and dispersal limitation on richness in a recovering temperate, subtropical, and tropical forest. Journal of Vegetation Science DOI: 10.1111/j.1654-1103.2011.01351.x
Zhang*, Y, Ma, K., Anand, M., Fu, B. (2011) Multifractal pattern and process during a recent period of forest expansion in a temperate mountainous region of China. Ecological Informatics 6:384-390.
Silva*, L., and Anand, M. (2011) Mechanisms of Araucaria (Atlantic) forest expansion into southern Brazilian grasslands Ecosystems 14:1354:1371
Charpentier, A., Anand, M., Bauch C. (2011) Variable offspring size as an adaptation to environmental heterogeneity in a clonal plant species: integrating experimental and modeling approaches Journal of Ecology 100:184-195.
Chillo*, V., Anand, M. and Ojeda, R. (2011) Assessing the use of functional diversity as a measure of ecological resilience in arid rangelands Ecosystems 14:1168-1177.
Kattge, J., Anand, M….White*, S… and many others… (2011) TRY: A global database of plant traits. Global Change Biology 17:2905-2935.
Babin-Fenske* J. and Anand M. (2011) Patterns of insect communities along a stress gradient following decommissioning of a Cu-Ni smelter. Environmental Pollution 159:3036-3043.
Silva*, L, Giorgis, M., Anand, M. Enrico, L., Pérez-Harguindeguy, N., Falczuk, V., Tieszen, L and Cabido, M. (2011) Evidence of shift in C4 species range in central Argentina during the late Holocene Plant and Soil 349:261-279.
Babin-Fenske* J. and Anand M. (2011) Agent-based simulation effects of stress on forest tent caterpillar. Ecological Modelling 222:2561-2569.
Pagnutti,* C., Anand, M. and Azzouz, M. (2011) Estimating gap lifetime and memory from a simple model of forest canopy dynamics. Journal of Theoretical Biology 274:154-160.
Wong*, S., Anand, M and Bauch, C. (2011) Agent-based modelling of clonal plant propagation across space: Recapturing fairy rings, power laws and other phenomena. Ecological Informatics 6:127-135.
Leithead*, M., Anand, M. and Silva*, L.R. (2010) Northward migrating trees establish in treefall gaps at the northern limit of the temperate-boreal ecotone. Oecologia 164:1095-1106
Silva*, L.R., Anand, M. and Leithead*, M. (2010) Recent widespread tree growth decline despite increasing atmospheric CO2 PLoSONE 5(7): e11543.
Babin-Fenske*, J. and Anand, M. (2010) Soil insect communities and the restoration of an industrially-perturbed landscape: assessing success and surrogacy. Restoration Ecology 18:73-84.
Anand, M. and Langille*, A., (2010) A model-based method for estimating effective dispersal distance in tropical plant populations. Theoretical Population Biology 7 (4): 219-226.
Caplat*, P., Anand, M. and Bauch, C. (2010) Modelling invasibility in endogenously oscillating tree populations: timing of invasion matters. Biological Invasions 12: 219-231.
Caplat*, P. and Anand, M., (2009) Effects of disturbance frequency, species traits and resprouting on directional succession in an individual-based model of forest dynamics. Journal of Ecology 97:1028-1036.
Silva*, L. Anand, M., Oliveria, J, Pillar, V. (2009) Past century climate and atmospheric changes in CO2 Araucaria angustifolia (Bertol.) Kuntze water use and growth rates: implications for forest expansion. Global Change Biology 15(10):2397-2417.
Leithead*, M., Anand, M. and Deeth*, L. (2009) A synthetic approach for analyzing tropical tree spatial patterns through time. Community Ecology 10:45-52.
Funding
Current/Recent Funding Sources
NSERC Discovery
NSERC Create
NSERC Engage
CRC program, CFI
Awards
Indo-Canada Chamber of Commerce, "Female professional of the year" award, 2012
Guelph Mercury, City of Guelph, "Top 40 under 40", 2009
Canada Research Chair in Global Ecological Change
Government of Canada 2006-2011
Premier's Research Excellence Award
Ministry of Environment, Science and Technology, Government of Canada 2002-2007
Young Alumni Award of Merit, University of Western Ontario, 2006
Canada Research Chair in Biocomplexity of the Environment
Government of Canada 2001-2006
Ontario Distinguished Researcher Award
Ontario Innovation Trust, Provincial Government 2001
Award of Excellence in Research and Technology Development
Ministry of Environment and Energy, Government of Canada 1997
Research Area
global ecological change, sustainability science, forest ecology, ecological modelling, biodiversity
Area of Research
Ecosystem Science and Biodiversity