Madhur Anand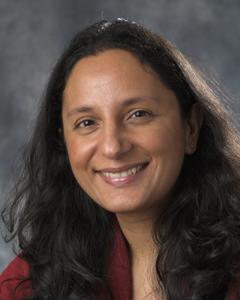 Lab:
Bovey Building Rooms 2213 and 2105
Find Related People by Keyword
Education
BSc, PhD Western Ontario
Postdoctoral fellowships at University of Trieste, Hebrew University of Jerusalem, Utrecht University and University of New Mexico (USA).
Research
The rapid pace and far-reaching potential of ecological change in the face of globalization and climate change is creating stress within ecosystems all over the world. There is an ever-increasing threat of extinctions of species, communities, and ecosystems along with the biodiversity services and functions that they support. Understanding the complex effects of ecological change at many scales (local to global, recent to historical) on biodiversity is thus of critical importance for predicting human-mediated changes to the environment, conserving biodiversity heritage and sustaining global economies. The CRC in Global Ecological Change recognizes the increasing international stature of ecological problems and their solutions. The research program will highlight similarities and differences between ecological events and practices on different continents with a view to fostering knowledge exchange. It will also provide tools for the application of emerging interdisciplinary theories, improved quantitative methods and predictive simulation models to the preservation, recovery and restoration of perturbed and vulnerable forest ecosystems worldwide.
Meet Prof. Madhur Anand

Prof. Madhur Anand of the School of Environmental Sciences describes her research on ecological systems and changes.
Check out Madhur's 60 second snapshot video here. 
Publications
For a full list of publications, refer to the Google Scholar Profile. 
Funding
Current/Recent Funding Sources
NSERC Discovery
NSERC Create
NSERC Engage
CRC program, CFI
Awards
Indo-Canada Chamber of Commerce, "Female professional of the year" award, 2012
Guelph Mercury, City of Guelph, "Top 40 under 40", 2009
Canada Research Chair in Global Ecological Change
Government of Canada 2006-2011
Premier's Research Excellence Award
Ministry of Environment, Science and Technology, Government of Canada 2002-2007
Young Alumni Award of Merit, University of Western Ontario, 2006
Canada Research Chair in Biocomplexity of the Environment
Government of Canada 2001-2006
Ontario Distinguished Researcher Award
Ontario Innovation Trust, Provincial Government 2001
Award of Excellence in Research and Technology Development
Ministry of Environment and Energy, Government of Canada 1997
Research Area
global ecological change, sustainability science, forest ecology, ecological modelling, biodiversity
Area of Research
Ecosystem Science and Biodiversity