Ivan O'Halloran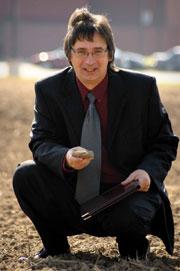 Email:
iohallo@ridgetownc.uoguelph.ca
Phone number:
(519) 674-1635 Ridgetown Campus
Find Related People by Keyword
Education
B.Sc., M.Sc. University of Guelph
Ph.D. University of Saskatchewan
Research
The focus of my research is primarily in the area of soil fertility management and land stewardship. Specific research interests include spatial variability of soil properties and crop yields, the site-specific application of nutrients and their fate (e.g. impact of variable nitrogen fertilization on nitrous oxide emissions), management practices to improve crop utilization of nutrients applied in animal manures while reducing off-site losses of manure constituents, methods of assessing manure phosphorus bioavailability and impact of manure phosphorus applications on phosphorus sorption/desorption in soils.
Meet Prof. Ivan O'Halloran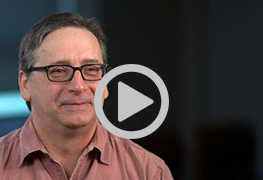 Ivan O'Halloran is an associate professor in our School of Environmental Sciences based out of the Ridgetown Campus. His research focuses on soil fertility and nutrient management in agricultural systems.
Check out Ivan's 60 second snapshot video here.
Publications
Murray, D., Meidinger, R.G., Golovan, S.P., Phillips, J.P., O'Halloran, I.P., Fan, M.Z., Hacker, R.R., and Forsberg, C.W. (2007). Transgene and mitochondrial DNA are indicators of efficient composting of transgenic pig carcasses. Bioresource Technology 98: 1795-1804.
Denys, C.J., O'Halloran, I.R., and Lauzon, J.D. (2006). Effect of nitrogen fertilization and topography on soft red winter wheat yield and protein content in two Ontario landscapes. Canadian Journal of Soil Science 86: 729-739.
Gregory SDL, Lauzon JD, O'Halloran IP, and Heck, R.J. (2006). Predicting soil organic matter content in southwestern Ontario fields using imagery from high-resolution digital cameras. Canadian Journal of Soil Science 86: 573-584.
Research Area
nutrient management, phosphorus cycling, soil fertility, phosphorus loss mitigation
Area of Research
Earth and Atmospheric Sciences