Andrew Donovan Young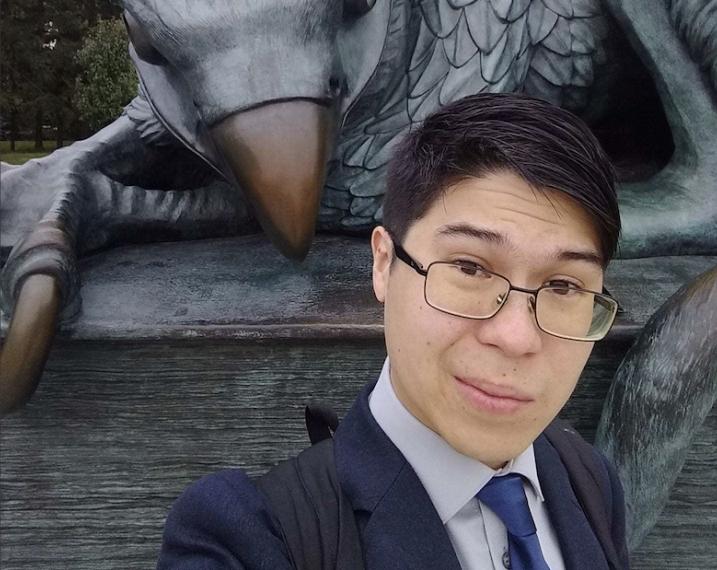 Find Related People by Keyword
Andrew grew up in Toronto, Ontario, and developed an early interest in insects and other wildlife by flipping rocks in his backyard, going on camping trips with his family, and obsessively reading and rereading North American field guides. He completed both a B. Sc. in zoology and an M. Sc. in systematic entomology at the University of Guelph, before moving to Ottawa, Ontario to complete a Ph. D. in association with Carleton University and the Canadian National Collection of Insects, Arachnids, and Nematodes. After completing his postgraduate education, Andrew worked as a postdoctoral scholar in association with University of California Davis and the California Department of Food and Agriculture. Recently, he has returned to the University of Guelph and focuses his research on the taxonomy and phylogenetics of flower flies (Diptera: Syrphidae), one of our most important groups of native pollinators. One of Andrew's main research interests is increasing the accessibility of taxonomy to non-specialists through the use of field guides and digital resources.
Academic History
Postdoctoral Scholar, Department of Entomology and Nematology, UC Davis, California, USA, 2018 - 2020
Ph.D in Biology, Carleton University, Canada, 2013 - 2018
M.Sc in Environmental Biology, University of Guelph, Canada, 2009 - 2012
B.Sc. Honours in Zoology, University of Guelph, Canada, 2005 - 2009
Awards and Honours
NSERC Postgraduate Scholarship - Doctoral Program, $63,000 (2015 - 2018)
Entomological Society of Ontario, President's Prize for best student oral presentation, $250 (2015)
Carleton University Travel/Research Bursary, $400 (2015)
Australian Entomological Society, Council of Heads of Australian Entomological Collections Speaker Prize, $300 (2014)
University of Guelph, Peer Scholarship in Entomology, $2,000 (2011)
Entomological Society of Ontario, President's Prize for best student oral presentation, $250 (2011)
Toronto Entomological Association Travel Grant, $300 (2010)
Research Impact
Andrew's long-term research goals are to understand the species diversity and evolutionary history of flower flies (Diptera: Syrphidae). Using modern molecular techniques to expedite species discovery, and copiously illustrating revisionary works with digital images, he is increasing the accessibility of flower flies to non-specialist researchers and amateurs alike. Andrew's research also encompasses the phylogenetic history of flower flies and uses next-generation sequencing techniques, seeking to elucidate what biotic and abiotic factors have influenced the evolution of the group. As one of the most significant groups of wild pollinators, flower flies are undoubtedly foundational members of many terrestrial ecosystems – in an era of increasingly rapid climate change and anthropogenic habitat destruction it is now more important than ever to understand the past and present diversity of these keystone species. 
Current Research Projects
Species Discovery and Expedited Identification of North American Flower Flies
Flower flies are the most significant non-bee pollinators in many terrestrial ecosystems. Given that accurate species identification is an essential building block of biological research, the goal of Andrew's taxonomic practice is to produce accessible identification tools. This project employs a combination of traditional morphological methods and DNA Barcoding to delimit North American flower fly species in taxonomically challenging groups. These species concepts are then used to produce online, photographic, multiple-entry keys and field guides, allowing a broad swathe of fellow researchers and interested amateurs to accurately identify our vital native pollinators.
World Flower Fly Phylogenetics
As their common name suggests, flower flies are best known for their flower-visiting behaviour. This project uses next-generation sequencing techniques to generate data from hundreds of gene regions of interest simultaneously. These data will be used to generate robust phylogenetic trees in order to understand the evolution and diversification of flower-visiting and associated pollination behaviour in flower flies and other Diptera. Divergence time estimation will be used to correlate the evolution of flower-visiting behaviour with the diversification of angiosperms or other major events in plant evolution.
Applied Entomology
In the current era of widespread global trade, insect pests, including fruit flies, are frequently transported worldwide. This gives them new opportunities to establish as devastating agricultural pests outside their native ranges. At the same time, anthropogenic climate change is altering ecosystems around the world and causing more frequent extreme weather events. These realities are destabilizing to agriculture and will potentially expand the range of some insect species injurious to humanity. As these changes continue to accelerate and threaten the global food supply, the ability to quickly and accurately identify significant crop pests is of utmost importance. One of my future research areas of focus will be to develop tools to aim in rapid pest identification in collaboration with growers and farmers.
Graduate Student Information
Andrew is currently looking for graduate students for the January 2021 semester. However, 2021 planning has been severely affected by COVID-19, and it is currently impossible to predict what the "lab" will look like come January. If you are interested in working with Andrew, please reach out via email.
Featured Publications
A.D. Young, J.H. Skevington, W. van Steenis, & F.C. Thompson. Revision of Australian Psilota Meigen, 1822 (Diptera: Syrphidae). Zootaxa, 2020
A.D. Young, J.P. Gillung. Phylogenomics—principles, opportunities, and pitfalls of big-data phylogenetics. Systematic Entomology, 2020
J.H. Skevington, M.M. Locke, A.D. Young, K.M. Moran, W. J. Crins, & S.A. Marshall. Field Guide to the Flower Flies (Hover Flies) of Northeastern North America. Princeton University Press, New Jersey, USA. 2019
K.A. Vezsenyi, J.H. Skevington, K.A. Moran, A.D. Young, M.M. Locke, J.A. Schaefer, & D.V. Beresford. Sampling Syrphidae using Malaise and Nzi traps on Akimiski Island, Nunavut. Journal of the Entomological Society of Ontario. 2019
A.D. Young, A.R. Lemmon, J.H. Skevington, X. Mengual, G. Ståhls, M. Reemer, K. Jordaens, S. Kelso, E.M. Lemmon, M. Hauser, M. De Meyer, B. Misof, & B.M. Wiegmann. Anchored enrichment dataset for true flies (order Diptera) reveals insights into the phylogeny of flower flies (family Syrphidae). BMC Evolutionary Biology, 16(1), 143. 2016
Area of Research
Ecosystem Science and Biodiversity