Exhibition by our Artists in Residence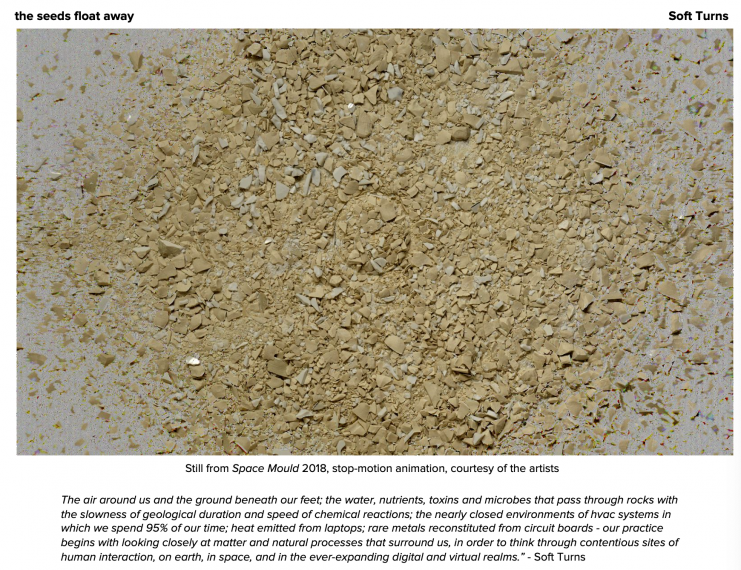 Presented by the School of Fine Arts and Music in partnership with the Artist Residency Program at the School of Environmental Sciences, University of Guelph.
Boarding House Gallery, 6 Dublin St S, Guelph
October 15th - November 12th Thursdays and Fridays 12-5, Saturdays 9-3
If you cannot go to visit the exhibition in person, you can see the art pieces here: http://www.softturns.com/theseedsfloataway.html
the seeds float away ​presents several works created during Soft Turns' studio residency at the School of Environmental Sciences (SES), University of Guelph (2017-19). The residency experience nurtured interests in the fields of ecology and agriculture, and this body of work reflects the artists' considerations of topics related to research conducted at SES, including the use of controlled environment chambers, artificial soil substrates, agrogeology, space agriculture and more broadly, plant-human interactions. Guided also by research into the materiality of information, this exhibition considers some physical dimensions of our increasingly digitized culture in relation to the finite resources available on our planet.
Soft Turns is the collaborative effort of Sarah Jane Gorlitz and Wojciech Olejnik. Soft Turns has previously participated in residencies at the Banff Centre, Plug In ICA Institute, AIR Bergen, and the Canada Council Paris Residency. Some recent exhibitions include 8eleven (Toronto), Evans Contemporary (Peterborough), Foundation 3.14 (Bergen), Southern Exposure (San Francisco), Skånes Konstförening (Malmö), YYZ (Toronto), Oakville Galleries (Oakville), Videobrasil (São Paulo), Soap Factory, (Minneapolis) and Trinity Square Video (Toronto).
The artists gratefully recognize support from the Ontario Arts Council and the Canada Councils for the Arts in the production of this work. They would also like to thank the faculty and students of the School of Environmental Sciences, in particular Jon Warland, Ron Dutton, Mike Dixon, Thomas Graham, Peter van Straaten, Youbin Zheng and Julie René de Cotret for their time and generosity.
Share this page
News Topics