Just Published 2017 publication "Characterizing Sites, Soils & Substrates in Ontario – Volume 1 Field Description Manual", authored by R.J. Heck, D.J. Kroestch, H.T. Lee, D.A Leadbeater, E.A. Wilson & B.C. Winstone.
"This publication builds upon the legacy of the 'field manual for describing soils in Ontario', in its various editions (OIP 1980, 1982, 1985 & OCSRE 1993), which has provided standard field reference for collecting landscape and soil information, within the province, for more than 25 years. Notably, it goes beyond the basic agriculture and forestry focus of the previous manuals, to support increasingly diverse and multidisciplinary applications, reflecting a more holistic approach to assessing landscapes, their broader environmental functionality and the impact of different land uses.
The selection, adaptation and refinement of content represent a collaborative effort of pedologists and ecologists from the University of Guelph, Agriculture and Agri-food Canada, the Ontario Ministry of Natural Resources and the Forestry, Ontario Ministry of Agriculture Food and Rural Development, as well as consulting practitioners. It involved a wide assessment of established concepts, criteria and protocols, being applied provincially, nationally and internationally, with due consideration for recognized norms that have been employed historically."
 ISBN 978-0-88955-638-6.
Copies may be acquired, through the School of Environmental Sciences, by contacting our Staffing Support Clerk, Email: ses.hr@uoguelph.ca   or  Phone: 519-824-4120 x54359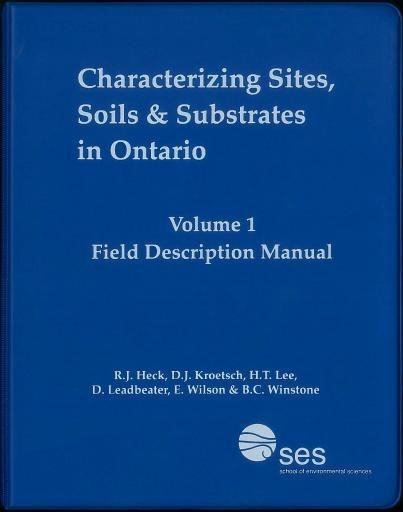 Share this page
News Topics