Richard Heck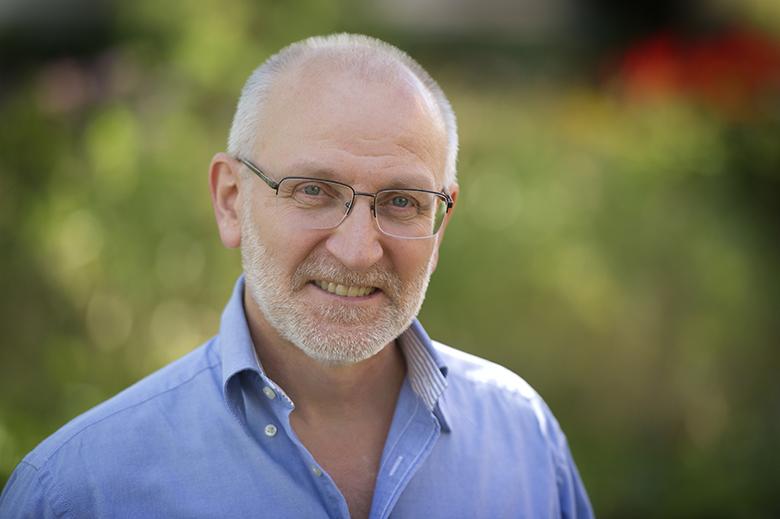 Phone number:
(519) 824-4120 Ext.52450 Room: ALEX 140
Find Related People by Keyword
Education
B.S.A., M.Sc., Ph.D. University of Saskatchewan
Research
My general research interest is on the quantification of soil morphology at several scales of observation. At the local catchment scale we are employing high-resolution airborne remote sensing techniques: a) visible/near-infrared imaging of soil and crops are used to reveal variations in soil type, b) computerized photogrammetry of stereo-airphotos and Lidar imaging are used to generate digital elevation models, from which landform quantification is performed. At the pedon/polypedon scale, we are employing thermal imaging and non-contacting magnetic induction techniques (electrical conductivity and magnetic susceptibility) to generate, through inversion modeling, 3D soil models. At the sub-pedon scale, we are employing high-resolution digital imaging of soil thin sections, as well as X-ray micro-computed tomography (mCT), combined with pixel- and context-based image processing, to reveal the spatial configuration of soil components. We have on-going collaborations with researchers in Canada, the United States, South America, Europe, Africa and Southeast Asia.
Meet Prof. Richard Heck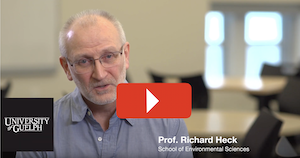 Check out Richard's 60 second snapshot video here.
Publications
Recent:
Soliman, A., Heck, R.J., Brenning, A., Brown, R., Miller, S. 2013. Remote Sensing of Soil Moisture in Vineyards Using Airborne and Ground-based Thermal Inertia Data. Accepted for Publication in Remote Sensing.
Karimi, E., Teixeira, I.F., Gomez, A., de Resende, Gissane, E.C., Leitch, J., Jollet, V., Aigner, I., Berruti, F., Briens, C., Fransham, P., Hoff, B., Schrier, N., Lago, R.M., Kycia, S.W., Heck, R. Schlaf, M. 2013. Synergistic co-processing of an acidic hardwood derived pyrolysis bio-oil with alkaline Red Mud bauxite mining waste as a sacrificial upgrading catalyst. Applied Catalysis B: Environmental, online.
De Resende, E.C., Gissane, C., Nicol, R., Heck, R.J., Guerreiro, M.C., Coelho, J.V., Alves de Oliveira, L.C., Palmisano, P., Berruti, F., Briens, C. & Schlaf, M. 2013. Synergistic co-processing of Red Mud waste from the Bayer process and a crude untreated waste stream from bio-diesel production. Green Chemistry 15: 496-510.
Taina, I.A., Heck, R.J., Deen, W. & Ma, E.Y.T. 2013. Quantification of freeze-thaw related structure in cultivated topsoils using X-ray computer tomography. CJSS.
Rittl, T., Cooper, M., Heck, R.J. & Ballester, M.V.R. 2013. Object-Based Method Outperforms Per-Pixel Method for Land Cover Classification in a Protected Area of the Brazilian Atlantic Rainforest Region. Pedosphere 23:290-297.
Dowuona, G.N-N., Atwere, P., Dubbin, W. Nude, P.M., Mutala, B.E., Nartey, E.M. & Heck, R.J. 2012. Characteristics of termite mounds and associated Acrisols in the Coastal Savanna zone of Ghana and impact on hydraulic conductivity. Natural Science 4: 423-437.
Munkholm, L.J., Heck, R.J. & Deen, B. 2012 Long-term effects of rotation and tillage on visual evaluation of soil structure, soil physical properties and crop yield. Soil Tillage Research 127: 85-91.
Others:
Taina, I.A. & Heck, R.J. 2010. Utilization of object-oriented software in the image analysis of soil thin sections. Soil Science Society of America Journal 74:1670-1681.
Peck, R. Bailey, J.B., Heck, R.J. & Scaiff, N.T. 2009. X-ray CT scan as an aid to identification and description of a new bivalve species (mollusca) from the Mississippian Bluefield Formation, southeastern West Virginia. Journal of Paleontology 83: 953-960.
Taina, I.A., Heck, R.J. & Elliot, T.R. 2008. Application of X-ray computed tomography to soil science: a literature review. Canadian Journal of Soil Science 88:1-20.
Funding
NSERC DG (2008 - 2013)
NPFVGA (2013)
OMAFRA (2012-2015)
GFO (2012-2015)
Awards
Certificate of Recognition, from the Ontario Innovation Trust, for "Advancing Innovative Research and Discovery through Infrastructure for Assessing Field-Scale Soil and Crop Variability and the Development of Site-Specific Management Practices"
Research Area
pedology, computed tomography, structure, magnetic susceptibility
Area of Research
Earth and Atmospheric Sciences