Richard Heck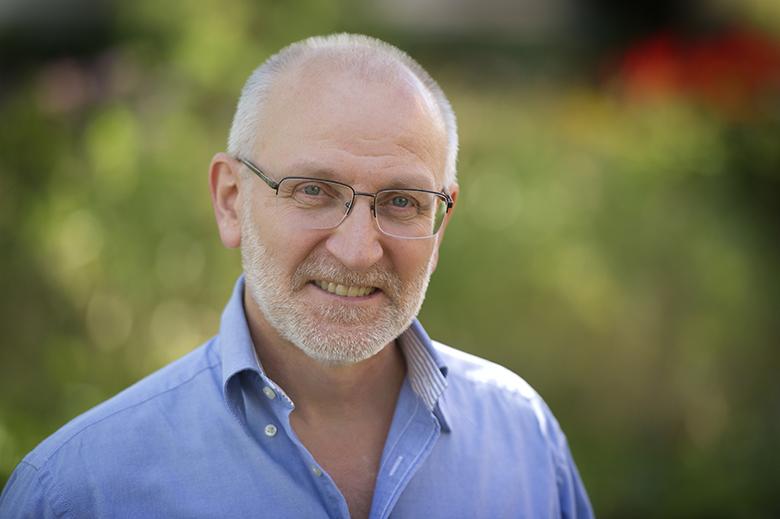 Phone number:
(519) 824-4120 Ext.52450 Room: ALEX 140
Find Related People by Keyword
Education
B.S.A., M.Sc., Ph.D. University of Saskatchewan
Research
My research focuses on the quantification and interpretation of soil morphology. At the pedon/polypedon scale, we are employing electromagnetic induction techniques (electrical conductivity and magnetic susceptibility), and associated inversion modelling to characterize soil hydromorphism, as an indicator of soil drainage conditions. At the sub-pedon scale, we are employing high-resolution optical digital imaging of soil thin sections, as well as x-ray computed tomography (CT) of intact soil cores, combined with pixel- and context-based image processing, to quantify the spatial configuration of soil components. Our micromorphology research draws upon the Canadian Soil Thin Section Collection, curated in our laboratory. We have on-going collaborations with researchers in Canada, the United States, South America and Europe.
Meet Prof. Richard Heck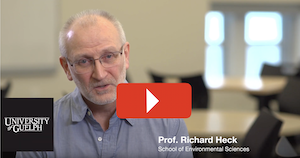 Check out Richard's 60 second snapshot video here.
Publications
Recent:
Torre, I.G., Heck, R.J. & Tarquis, A.M. 2020. MULTIFRAC: An ImageJ plugin for multiscale characterization of 2D and 3D stack images. SoftwareX 12:1-6
dos Santos, C.R., Antonino, A.C.D., Heck, R.J., de Lucena, L.R.R., de Oliveira, A.C.H., da Silva, A.S.A., Stosic, B. & Menezes, R.S.C. 2020. 3D soil void space lacunarity as an index of degradation after land use change. Acta Scientiarum 42. Doi: 10.4025/actasciagron.v42i1.42941
Vasconcelos-Filho, J.E., Thompsen, F.S.L., Stosic, B., Antonino, A.C.D., Duarte, D.A., Heck, R.J., Lessa, R.T.P., Santana, F.M., Ferreira, B.P. & Duarte-Neto, P.J. 2019 Peeling the otolith of fish: optimal parameterization for micro-CT scanning. Frontiers in Marine Science 26: 1-11
Pires, L.P., de Melo, M.S., Borges, J.A., Heck, R.J. & Facin, P.C. 2019. X-ray microtomography to quanitfy morphological sandstone properties. Brazilian Archives of Biology and Technology 62. doi.org/10.1590/1678-4324-2019180125
Borges, J.A.R., Pires, L.F., Cássaroa, F.A.M., Aulerb, A.C., Rosac, J.A., Heck, R.J. & Roquee, W.L. 2019. X-ray computed tomography for assessing the effect of tillage systems on topsoil morphological attributes. Soil & Tillage Research 189: 25-35
Fonseca, A.C., Costa, L.F., Dantas, C.C., Heck, R.J., Antonino, A.C.D. & Barbosa, E.S. 2019. Precise determination of soil structure parameters in a X-ray and γ-ray CT combination methodology. Progress in Nuclear Energy 114: 138-144
Winstone, B.C., Heck, R.J., Munkholm, L.J. & Deen, B. 2019. Characterization of soil aggregate structure by virtual erosion of X-ray CT Imagery. Soil & Tillage Research 185: 70–76
Others:
Torre I.G, Losada, J.C., Heck, R.J. & Tarquis, A.M. 2018. Multifractal analysis of 3D images of tillage soil. Geoderma 311: 167-174
Oliveira, B.P., Câmara, A.C., Duarte, D.A., Gomes, A.S.L., Heck, R.J., Antonino, A.C.D. & Aguiar, C.M. 2017. Micro–computed Tomographic Analysis of Apical Microcracks before and after Root Canal Preparation by Hand, Rotary, and Reciprocating Instruments at Different Working Lengths. Journal of Endodontics 43: 1143-1147
Caplan, J.S., Gimenez, D., Subroy, V., Heck, R.J., Prior, S.A., Runion, G.B. & Torbert, H.A. 2017. Nitrogen-mediated effects of elevated CO2 on intra-aggregate soil pore structure. Global Change Biology 23: 1585–1597
Munkhom, L.J., Heck, R.J., Deen, B. & Zidar, T. 2016. Relationship between soil aggregate strength, shape and porosity for soils under different long-term management. Geoderma 268: 52-59
Jefferies, D.A., Heck, R.J., Thevathasan, N.V. & Gordon, A.M. 2014. Characterizing soil surface structure in a temperate tree-based intercropping system using X-ray computed tomography. Agroforestry Systems 88: 645-656
Jacques, P.D., Nummer, A.R., Heck, R.J. & Machado, R. 2014. The use of microtomography in structural geology: a new methodology to analyse fault faces. Journal Structural Geology 66: 347-355
Funding
NSERC DG (2019 - 2024)
NSERC Engage (2019-2020)
OMAFRA (2019-2022)
GFO (2019-2022)
Awards
Corresponding Member of the Pernambuco Academy of Agronomic Sciences and the Brazilian Academy of Agronomic Sciences.
Certificate of Recognition, from the Ontario Innovation Trust, for "Advancing Innovative Research and Discovery through Infrastructure for Assessing Field-Scale Soil and Crop Variability and the Development of Site-Specific Management Practices"
Research Area
pedology, soil morphology, micromorphology, computed tomography, magnetic susceptibility
Area of Research
Earth and Atmospheric Sciences